I can't imagine Sunday brunch or a proper french feast without Kir Royale. My french friends Pierre and Yveline introduced me to it few years ago, and it's been my favorite apéritif and special Sunday treat ever since. Kir Royal, a champagne mixed with black currant liqueur-Creme de Cassis, is a variation of a famous Kir, where white wine is used instead of sparkling. Originally called "blanc-cassis", Kir gets its name after Felix Kir, a french catholic priest and a WWII resistance fighter, who later was elected a mayor of Dijon in Burgundy. There are many different versions of this cocktail, but Kir Royale and Kir Imperial, which is made with raspberry liqueur-Creme de Framboise, in my opinion are best.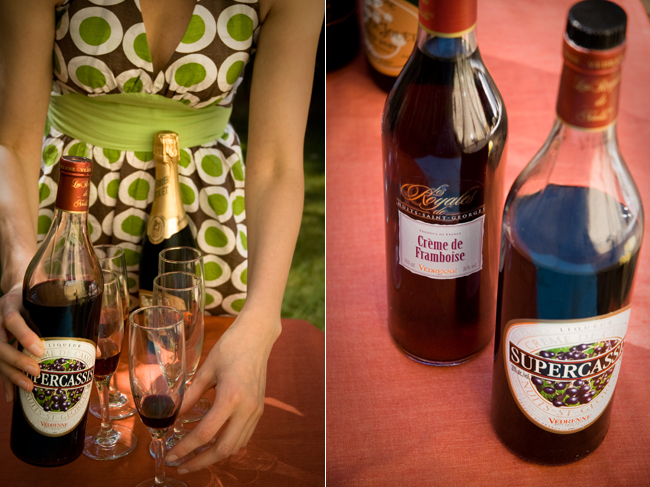 To prepare Kir Royale or Kir Imperial you will need:
Creme de Cassis or Creme de Framboise
Champagne or sparkling wine
lemon zest or fresh raspberries(optional)
champagne flutes
directions
Pour small amount of Creme de Cassis(for Kir Royale) or Creme de Framboise(Kir Imperial) depending on how sweet you would like it, some taste testing is recommended. Top it off with Champagne and garnish with a lemon twist(for Kir Royal) or fresh raspberries(for Kir Imperial). Enjoy!
Cheers!